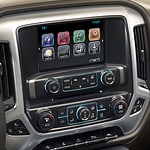 Apple CarPlay was introduced in 2014 as a connectivity feature for linking your iPhone with the vehicle's infotainment system. Back then, it was a killer feature in a vehicle.
Today, it is a standard feature and a selling point for automakers. Apple CarPlay mirrors your iPhone's apps and operations to the vehicle's infotainment display. You can interact with your phone from the touchscreen display with a friendly interface for easier driving operations. You can make calls, play music, and do other operations without endangering other road users in South Boston, VA.
You can link up your phone with the infotainment system in two ways: use a lighting cable to plug your phone into the car's USB port, and Apple CarPlay will pop up on display. If your car has wireless Apple CarPlay, set up a wireless connection to initialize Apple CarPlay, and from then on, it will connect automatically to any other driver. Numerous apps are compatible with Apple CarPlay, including Messages, Phone, Messages, and Maps. Secondary Apple CarPlay apps should fall into navigation, audio, and communication.