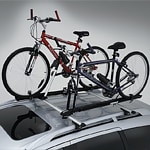 A roof rack on your vehicle can be a valuable feature when you need to carry additional cargo. Whether you are trying to carry extra luggage on your roof rack, or you have a few canoes you want to take paddling, safely using a roof rack is going to get you to your destination with care.
Pay attention to how much the load is going to weigh, and be sure that you aren't exceeding the weight limit for your vehicle. Use straps that will secure what you are carrying, to avoid the load flying off of your vehicle while driving.
Roof racks are an excellent way to bring oversized objects from one place to another. Take a look at your roof rack to see what you need for additional attachments or straps. When you use the right equipment, you can ensure that the extra cargo you are carrying will make it safely to your destination.