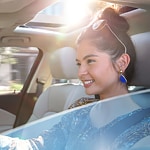 Choosing a car for your teenager can be a thrilling time. This may be more true for your teen than for you, however. That is why Terry of South Boston would like to share some tips for choosing your teen's first car in South Boston, VA.
Most parents choose a used vehicle for their teenagers. This saves quite a bit of money, and the odds are good that this vehicle will get scratched or dinged. That said, looking for a late-model used car will allow you to get some advanced safety features on the vehicle. It will also likely have fewer maintenance issues to deal with in the near future.
One of the most important steps when selecting a car is setting a budget. You should include your teenager in this process so that they can learn about the expenses associated with driving beyond a car payment.